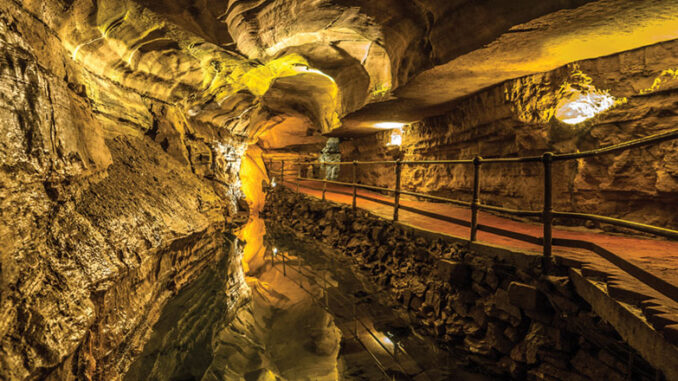 By Deborah Jeanne Sergeant
While the temperature may be scorching above, caves naturally maintain a comfortable atmosphere. Plus, they're filled with geological wonders — and maybe a waterfall or two. Check out New York's caves and plan an adventure to share with friends and family.
Howe Caverns is likely the state's most well-known public caving experience that includes a 156-degree descent and an underwater boat ride.
From novices on the guided tour to serious spelunkers who want to wriggle through tight passages, the Howe has it all.
In addition to the traditional tour, Howe offers the Lantern Tour (reservations required), which recreates the ambiance of early cave explorers. A more family-friendly option, the Flashlight Tour, uses only handheld flashlights as the tour's illumination (reservations required).
For a more intimate tour, the Private Tour can accommodate up to 36 guests who can tour the cave at their own pace and ask questions from their private guide. In recent years, Howe has added a few more options, including Howe to Escape, a reservations-only escape room; the 2.5-mile Signature Rock Discovery Tour that explores previously unopened areas.
More info: https://howecaverns.com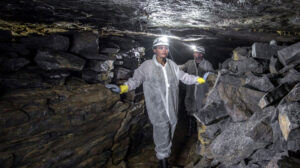 Not far away, The Secret Caverns is worth the short drive. From the kitschy folk-art façade to the rustic cave experience, it feels like The Secret Caverns is the oddball, lovable cousin of Howe Caverns. It's not so much about the geology and science as it is about the "cool factor" for the Secret Caverns. Guests are encouraged to touch formations and take photos. The one-hour, guided tour takes guests to a 100-foot, underground waterfall.
More info: https://secretcaverns.com/about.html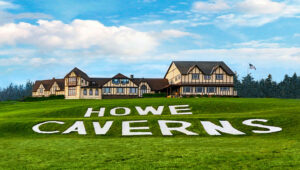 For a self-led tour, check out Sam's Point Preserve in Cragsmoor, part of the New York State Parks System and includes the Ice Caves. While not a vertically deep cave system, the Ice Caves include a hike and at Sam's Point, terrific views. Arrive early, as parking space is limited, but greatly marked, click here to learn more. Once the parking lot is full, cars will be turned away.
More info: https://parks.ny.gov/parks/193
Natural Stone Bridge & Caves in Pottersville provides self-guided, above-ground hikes to several surface caves and natural rock grottos. Explore its ¾-mile trail that includes more than 500 rock and timber steps. The hike should take about an hour. Check the website on the availability of the guided Adventure Tour.
More info: https://stonebridgeandcaves.com
---
Before You Go
Guided tours often require reservations and are dependent on the facility's ability to staff them. Call ahead of time.
Keep in mind that although the hosts of public caves welcome guests, this is a natural habitat for bats, just as you would expect to see squirrels and birds on a forest hike. Leave bats alone and they will probably do the same.
Underground caves can be as cold as 50 degrees, even during summer. Bring along a light jacket.
Wear skid-resistant, closed shoes. Caves can be slippery underfoot, so this is not a great place to wear sandals or open-backed shoes.
Expect steps and uneven ground. Typically, caves are not accessible for those using wheelchairs and strollers.
Stay on the designated path as led by the tour guide.
If you participate in a more arduous tour, wear the safety equipment recommended.
Do not disturb anything in a cave or take home a "souvenir" (unless it is something from the giftshop, of course).
Take out whatever you take in.