Author of the book "100 Things to Do in Syracuse Before You Die" discusses 10 places you need to visit in Syracuse region.
By Deborah Jeanne Sergeant
Looking for can't-miss-it places to visit in Syracuse? Then ask Linda Lowen. She literally wrote the book on it: "100 Things to Do in Syracuse Before You Die," available at area stores or online through Target, Walmart, and Amazon. 
She shared 10 Syracuse's top places, some of which did not appear in the book.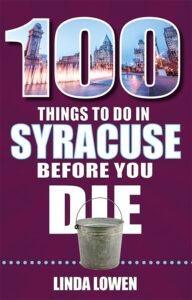 1. Pratt's Falls, Manlius 
"It's quite an incline," Lowen said. "It's great because you're walking out of a picnic area down a steep hill. There are steps and a handrail. You stand there and really hear the waterfall, which has a 137-foot drop. The overlook is worth the short jaunt."  
2. Three Falls Woods,
Manlius, off Sweet Road
"You can tell how popular it is as during certain times of day, as it's jam-packed. It's a short path down a little bit of a hill into this wooded area. The woods are bisected by two streams. They create these incredible amphitheaters of rock. It's a great place to let kids play at the foot of the falls and let your dogs run around. As you go through the summer, it becomes a trickle."
3. Wildflowers Armory, Downtown
"We've had an incredible resurgence downtown, including cute little gift shops with Syracuse artisans. A favorite of mine during research for the book is Wildflowers Armory. It is like a collective of artisans and is the kind of place you'd want to go to get a Syracuse-specific gift. It would delight an 8-year-old and 88-year-old, from stickers to jewelry to upcycled items to art to plants. It's all made by an area artisan. They all work there, so you can meet the maker. Below that is another place in the same building, McArthy Mercantile, that has 10 independent shops. It's a high-ceilinged basement place with terrazzo floors. It's very sparkly down there. It's got some fun places. It's sort of like if you want to get away from the heat and glare of a New York summer, you can take a break down there."
4. Salt City Market, Downtown
"If you haven't been, it's like around the world in 80 bites. It's an absolutely fantastic place to hang. Everyone goes there, every age, every stage. They have more interesting handcrafts than what you typically see at craft shows."
5. Onondaga Lake Park
"Everyone knows about the Liverpool side, but you also need to go on the West View Trail. This high bluff curves around and gives you a magnificent view of the city. Park in the Orange Lot at the New York State Fairgrounds. The trail leads you to the Amphitheater and it will loop the lake. They have now built the new bridge over the railroad tracks and it's a beautiful bridge."
6. Crazy Daisies, Westside
"It is a restaurant with this huge porch, which is absolutely full of hanging baskets. It's breezy and they sell plants. People really enjoy going there for lunch and dinner." 
7. Downtown Marcellus
"You wouldn't know it based on what's on the main drag, but there are a lot of women-owned businesses on the side streets, like Olive + Fern. They have contemporary goods with a Boho aesthetics. AnnaBelle Designs upcycles furniture into fun pieces and they have homemade jewelry. I also like Rummage Heaven, a converted church with three floors of antiques and repurposed furniture." 
8. Lorenzo Historic Site, Cazenovia. 
"If you want to live out your period dramas like "Downtown Abbey" or "Bridgerton," see the Lorenzo Historic Site, a beautifully restored lakeside home with high ceilings and original furnishings, including a crystal- and china-laden dining room table." 
9. Stone Quarry Art Park, Cazenovia
"It's like an art scavenger hunt. You park at the top of the hill and you can explore 104 acres of sculptures, wandering the gallery without walls. Over 50 pieces await your exploration.
10. Labrador Hollow
Unique Area, Tully
"If you're doing a waterfall day, hike Tinker Falls, go up the hill and there is a clear area, a precipice. You can stand up there and get an incredible view. Cross the road and there's a boardwalk. It's a nice break from the city. It feels like a slice of the Adirondacks."
Photo: Salt City Market (photo of food court); Linda Lowen (book cover)