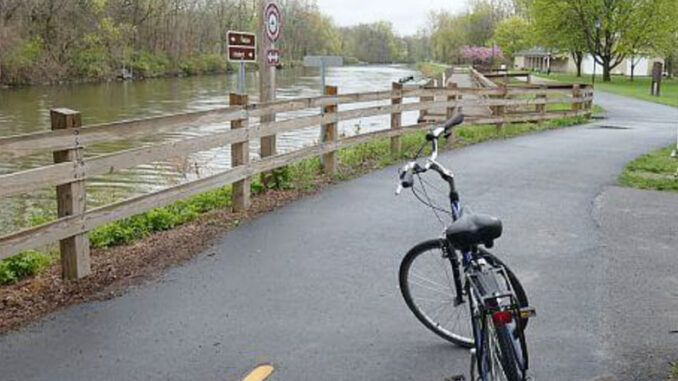 By Deborah Jeanne Sergeant
You may not have a tandem bicycle like Daisy and Michael of Harry Dacre's "Bicycle Built for Two," but do give your answer as "yes" for bicycling in New York. Our state's many parks and trails offer plenty of safe and scenic places to pedal including:
The Great Lakes Seaway Trail hugs 518 miles of New York's border with Canada between Niagara Falls and the Thousand Islands: nearly all the state's northern border. Enjoy spectacular views of Lake Erie and Lake Ontario. The completely paved trail makes it an easy ride for the whole family.
More info: www.dot.ny.gov/scenic-byways, then type Seaway Trail on the search menu
The Erie Canal Bike Pat

h — from Albany to Buffalo — is 350 miles of finished bicycle trails, some of which are paved for easy riding. Most of these are along the Erie Canal, offering waterside parks, historic points of interest and historic small towns to visit. Some portions of the trail use streets that cars use. Since these portions go through towns, you can plan your ride for areas where you feel your family can ride safely according to their experience and biking skill. The trail includes Rochester, Syracuse and Utica in addition to the "bookend" cities of Buffalo and Albany.
More info: https://bikeeriecanal.com
More info: www.traillink.com then type Champlain Canalway Trail in the search menu
Plattekill Bike Park in Roxbury provides a bit more challenge among its 38 trails. The bike lift makes heading back to the top easier, but take care in the ride down, as trails range from mid-level to expert.
More info: https://plattekill.com
At Bluestone Wild Forest in Ulster County, mountain bikers can enjoy 3,000 acres of cycling adventure with trails through forests, around ponds, and over hills. A measure of experience is a must to appreciate all Bluestone has to offer.
More info: www.dec.ny.gov/lands/75323.html
Ellicottville Epic takes experienced mountain bikers on a twisty, rocky, root-covered ride down 31 miles some of the steepest trails in the state.
More info: www.singletracks.com Then type ellicottville-epi
Harriet Hollister Spencer Park in Springwater, provides mountain bikers with some steep downhill rides, along with nice views of Honeoye Lake in the Finger Lakes. Bring along a picnic to spend the day.
More info: https://parks.ny.gov/parks then type harriet hollister spencer
---
Be Safe
Travel in a group and let someone else know where you are going and what time you expect to return.
Plan your route so you know when you should turn back.
Bring along basic bike repair tools.
Bring a charged cellphone.
Dress for the weather and bring along sunscreen and water bottles.
The whole family should wear properly fitted bike helmets and reflective clothing. Use lights if traveling during low-light conditions.
Obey traffic laws if you are biking on the street.