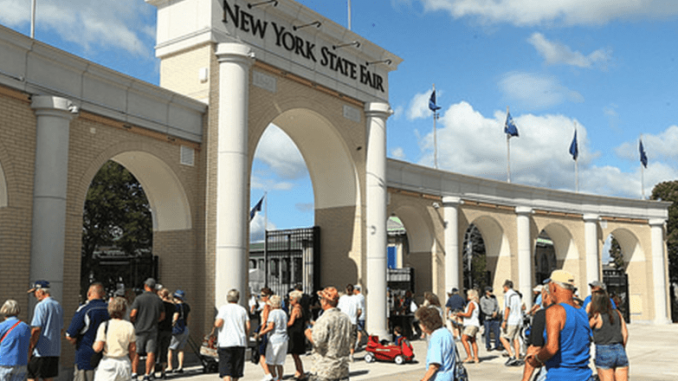 The Great New York State Fair is getting greater and greater — it's now offering goat yoga and a Bike to the Fair Day
By Mary Beth Roach
Jedi training, goat yoga, a Comic Con day, Christmas in August, Biker Day, a new parking lot and gate for the Park-and-Ride, and national headliners debuting on various stages are just a few of the many features making this year's Great New York State Fair even bigger and better.
The fair, which will run from Aug. 21 (Wednesday) to Sept. 2 (Monday), is also planning to expand some popular programs from last year on the 375-acre venue.
"It's something we work on all year long is how to make the Great New York State Fair even greater," said Troy Waffner, fair director.
Park-And-Ride Changes / "The New York Experience" Area
One of the biggest changes this year will be for those who take advantage of bus transportation to and from the fair. Instead of fair patrons getting off and on at the main gate, they will be using the entrance at gate 10 at the western end of the grounds. Fair organizers believe that the change will make it an easier and safer entrance and exit for the 100,000 to 150,000 who take Centro to the fair.
This will also put fairgoers right at the entrance to the "New York Experience," a 17-acre festival area that features a pond with programs sponsored by the Department of Environmental Conservation, several concession stands and a concert area. Completing the relaxed atmosphere of the New York Experience area are Adirondack chairs and fire pits. Waffner hopes to add hammocks this year.
The DEC stocks the pond and will run two family fishing days Aug. 22, and Aug.24. These are catch-and-release events.
"When you stand there and you look across the pond and you see the lights of the midway and the lights of the expo building it's almost surreal in how pretty it is," Waffner said.
The Experience Stage, which opened in 2017, will host several shows a day. Headliners this year will include Grand Funk Railroad, Jackyl, 38 Special, Rick Springfield, Pop Evil, and Resurrection, a national touring Journey tribute band. Rounding out the lineup will be top-notch bands from across Upstate New York.
Theme Days
Fairgoers are familiar with theme days, but this year, there are even more special days many of which include discounted admission prices.
Organizers are serious in offering fairgoers an opportunity to take part in one of the new variations of yoga — goat yoga. Schedules as of press time have not yet been confirmed.
The fair will celebrate Christmas in August Aug. 25, at the Exposition Center, which will include Santa arriving via a six-horse hitch, a tree lighting and carols. Fairgoers who bring a toy to donate to Toys for Tots will get $1 admission that day.
Also on Aug. 25, it'll be Bike to the Fair Day, and bicyclists will be allowed to park their bikes inside the gates. This is not to be confused with Biker Day, on Aug. 24, when motorcyclists can get in for $1 with their motorcycle licenses.
Senior Days have run two days for years, but because of excessive heat last year, the fair decided to add a third Senior Day: Aug. 26 through Aug. 28.
Organizers at press time were still nailing down the details, but Aug. 28 is planned to be Comic Con day. Plans include Jedi training with light sabers, provided by the fair; a custom comic book cover, done by Marvel, featuring some of the iconic landmarks of the fair; a costume contest; and perhaps an appearance by the Transformer Bumblebee.
The Adopt-A-Dog Day in the lobby of the air-conditioned Expo Center was such a doggone success last year, with about a dozen canines being adopted, the fair is planning to expand it to two days, Aug. 24 and Aug. 25, to include more regional shelters to participate.
Chevy Court
Fair organizers over the past few years have put more effort and funding into bringing national shows to Chevy Court, according to Dave Bullard, public relations manager for the fair. Those shows can draw about one-third of the fair's total audience, he added.
While many acts are perennial favorites, such as Herman's Hermits, which performs at 2 p.m. on Mon., Aug. 26, there are many new acts lined up.
These include Bad Company on Aug. 21; electric violinist and YouTube sensation Lindsey Stirling, Aug. 23; rapper Smokepurpp, Aug. 24; the country music group Midland, Aug. 26; rapper and actor Ice Cube, Aug. 28; Why Don't We, a hot teen pop group, on Aug. 29; Vince Neil, of Motley Crue fame, Aug. 29; country artist Granger Smith, Aug. 30; Canadian rock band Theory of a Deadman, Aug. 31; The Roots, a hip hop group and the current house band on "The Tonight Show starring Jimmy Fallon", Sept. 1; drummer, singer, and songwriter Sheila E., Sept. 1.; lovelytheband, an indie pop group, Sept. 2; and pop musician Gavin DeGraw, also, Sept. 2. Dropkick Murphys will return to the fair's Chevy Court this year Aug. 25.
Chevy Court offers two shows each day, and the concerts are free with Fair admission.
Continuing To Grow
The fair continues to grow in attendance. According to Bullard, it has seen a 41 percent increase – or 350,000 more people — passing through the gates in the last three years.
But the numbers aren't the only thing improving.
The fair has experienced a major renovation over the past three years due to an influx of more than $120 million of state money. Gov. Andrew Cuomo wanted the fair to be part of the overall tourism-building strategy for Central New York, Bullard said. Of the improvements, the most notable were the new Main Gate and the Exposition Center. Yet, Waffner noted that there will also be more capital investment made over the next three to five years, especially on the western end of the grounds, focusing on the agricultural area.
For more information, entertainment dates and showtimes, and updates, visitwww.nysfair.ny.gov.