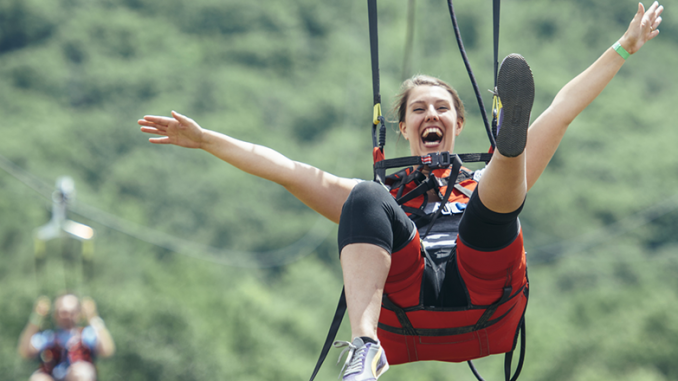 The sport allows people get a bird's-eye view of some of the most scenic places in the state
By Deborah Jeanne Sergeant
Bored with hiking? Get a bird's-eye view of some of the most scenic places in the state by zip lining. Several venues statewide offer the adventure of zooming over the landscape suspended by a safety harness on a wire. They include:
Thunder Island (www.thunder-island.com, 315-598-8016, Fulton).
It offers the Soaring Eagle zip line-based ride. Unlike other zip lines, visitors can ride side-by-side on a seat with a friend and ride in reverse as well. The 22-mph-speed in its first 100 feet slows in portions of the trip so riders can take in the view. While at Thunder Island, visitors can enjoy theme park attractions. A zip line ride costs $5; check the website for packages that include taking advantage of various parts of the park.
Zipline New York Tours (www.ziplinenewyork.com, 518-263-4388, Hunter Mountain Ski Bowl, Hunter).
It touts its rides as "mild" to "wild" to suit the taste of visitors. The facility offers both high tower obstacles and zip lines. Reservations required. Call for pricing.
Adirondack Extreme Adventure (www.adirondackextreme.com, 518-494-7200, Bolton Landing).
It lays claim to being the largest aerial treetop adventure park in the nation. It takes about three to four and a half hours to complete all six adult courses, which includes zip lining at the end. The Kids Course is designed for children ages seven and older. The Kids Course is $25. The adult courses start at $45. The children's playground is free.
Howe Caverns (howecaverns.com, 518-296-8900, Howes Cave).
It offers more than caving; above-ground adventures include a four-tower zip line course that's 900 feet long and 40 feet in the air. The zip line is $17.
Engelke Farm (www.engelkefarm.com, 518-478-4939, Troy).
It provides numerous family-oriented activities for all ages at its farm market, along with the second-longest zip line in the state. Zip lining starts at $15.
Bristol Mountain's Arial Adventures (bristolmountainadventures.com, 585-374-1180, Canandaigua).
It makes great use of the ski resort's natural beauty. The Zipline Canopy Tour offers seven zip lines that total more than 5,000 feet. Two guides lead each of the three-hour zip line tours. Bristol also offers The Aerial Adventure Park's seven obstacle courses that take about three hours to complete. Plus, there are two additional courses for children aged 4 through 7. Admission to the zip line is $109. Admission to the children's courses is $25.
Greek Peak Adventure Center at Greek Peak Mountain Resort (theoutdooradventurecenter.com, 866-376-3907, Cortland).
It offers views from 60 feet above the ground along 1,300 feet of zip lines. Also while at the Adventure Center, check out the Nor'Easter Mountain Coaster, Aerial Challenge Course, and, for the little ones 3 to 6, the bounce house, kids' climbing wall and slide. The zip line tours take about two hours and can accommodate 12. The cost for zip lining is $42. See the website for other attractions.
Eagle Flyer Zip Line (adkeagleflyer.com, 518-668-9453, Lake George).
It provides seated riders with side-by-side zip lines that begin at 125 feet off the ground and include a nearly 1,000-foot vertical drop at 50 mph. The entire ride lasts three-quarters of a mile and includes views of Lake George and the Adirondack Mountains. Cost is $45.
Some zip line venues refund tickets for rainy days. Carefully review the website for dress and size guidelines and call ahead to make reservations.