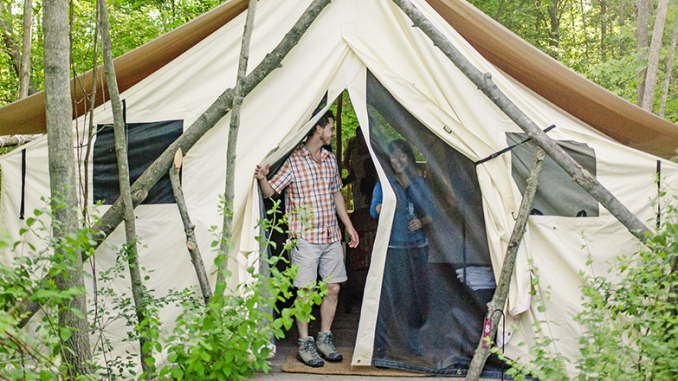 It provides a way to get away from the distractions of modern life without giving up the small pleasures it offers
By Deborah Jeanne Sergeant
You've been camping but have you tried glamping? A portmanteau of "glamor" and "camping," glamping makes camping luxurious without separating campers too much from nature.
So what's the difference? Campers haul all their gear to a bare site. Glampers usually arrive with just their clothing and personal items — the rest is provided. The glamper slumbers between high thread count sheets on a real bed on a raised wooden platform in their upscale tents, not in a sleeping bag on the ground.
Glampgrounds usually provide heated restrooms and showers. Traditionally, campers provide or catch their dinners. Glampers may nosh on the featured delicacies of the glampgrounds.
Glamping takes the work and sacrifice out of camping. Some may revel in the whole "man vs. wilderness" adventure. For those who don't, glamping provides a way to get away from the distractions of modern life without giving up the small pleasures it offers.
Where to Glamp
Here's where you can try glamping in Upstate:
• Posh Primitive (www.poshprimitive.com, 518-744-6808, Chestertown, NY) The campsites' rustic and antique furnishing blends well with the natural surroundings. The staff provides meals, tours and tips on nearby activities.
• Firelight Camps at La Tourelle Resort and Spa (www.firelightcamps.com, 607-229-1644, Ithaca, NY) is close to La Tourelle, so guests can use the resort's sauna, steam room, and other amenities. Glampers at Firelight can also enjoy communal campfire, bocce ball, and access to hiking at Buttermilk Falls. The "lobby" of Firelight is also in a tent.
• Camp Orenda (https://camporenda.com, 518-251-5001, Johnsburg, NY) provides tents that are really more like cabins with canvas sides. Wood burning stoves in each tent are stocked daily with split wood for cool evenings. Indoor restrooms and an outdoor shower keep the camping experience real without making it too arduous. Activities offered include yoga, kayaking, canoeing, hiking, archery, swimming and fishing. Nearby, glampers can try whitewater rafting, rock climbing, aerial zip lining and caving.
• Blue Hills Farm (http://bluehillsfarm.com, 845-252-3864 Narrowsburg) also offers upholstered seating, oversized shower with spa jets, tree house breakfast cabin and other touches make Blue Hills stand out. Nearby activities include fishing, canoeing, kayaking and hiking trails. Blue Hills neighbors Narrowsburg, which has a small shopping district and the Tusten Theater, a vintage art deco theater, or Bethel Woods, a performing arts center.
• The glamping sites at Darien Lake (http://www.darienlake.com/lodging-glamping, 585-599-2211, Darien Center, NY) can help families find a compromise between an action-packed vacation at a theme park (a five-minute walk from the glampsites) and a peaceful camping getaway. Neither party has to rough it. The glampsites include fire rings, picnic tables and close proximity to public restrooms, laundry facilities and showers.
• Harmony Hill Retreat (http://harmonyhillretreat.com, 877-278-6609, East Meredith, NY) serves glampers who want a retreat experience without roughing it. Their tree house yurts offer a king sized bed, bathroom with shower, outfitted kitchen, sky light, ceiling fan, and French doors with a balcony. Charcoal grills and picnic tables are also available. Activities on the property include walking the 11-circuit labyrinth and two-acre gardens
Before booking, make sure you understand the facility's policies and what's included and what's not permitted. For example, some allow dogs and others don't. Check out any nearby activities you may want to pursue.