By Mary Beth Roach
If you and your family are looking for a vacation rental that's unique and will create a more memorable adventure, consider spending time in a treehouse or a lockmaster boat on the Erie Canal.
The Treehouse That's The Rock House
When you were younger, a tree fort might have proven to be the perfect escape.
You might be a little older now, but a treehouse can still be that perfect escape for vacationers who love the outdoors.
Consider Sandy and Lou Maine's treehouse near Parishville, in the northwest part of the Adirondack Park near Potsdam.
The building is approximately 10 by 12 feet in size. it's about 10 feet high and sits atop an enormous boulder. Hence the name, The Rock House.
The Rock House includes a pullout couch, a small dresser ; and shelving stocked with some soaps from Sandy's Adirondack Fragrance and Flavor Farm. Outside, the Maines have added a kitchen pavilion, a Finnish sauna with a shower, and an outhouse.
The setting of the house is a nature-lover's paradise. There are approximately four miles of trails, a landing where renters can borrow a canoe or kayak to take on the river and a swimming hole, according to Sandy.
The treehouse was built by Lou Maine for their daughter when she was younger, and he included windows with screens and tongue and groove pine, Sandy said. Later, a friend from New York City stayed there for a while and suggested to the couple that they rent the place on Airbnb. Sandy said that, at first, they dismissed the idea. But after purchasing an adjacent property with an A-frame home, fixing that up, and successfully renting that out, the Maines decided to try renting the treehouse too.
As they begin their fourth season of renting it, Sandy said that The Rock House is quite popular with tourists.
The Maines are very flexible with the rental periods — from one night to a week or more. It's $100 a night, plus $35 cleaning fee. You may pay additional fees, if you go through Airbnb.
Lafayette Treehouse: Couple Surprised with Demand
"It's a real immersion into nature." That's how Tom Wallace describes the treehouse rental located on his 20-acre property in LaFayette, about 20 minutes south of Syracuse that he and his wife, Lisa, have been renting out since 2020.
Dubbed "The Magical Chez" Tree Rest Treehouse, it is a two-story structure, with an open space on the main floor, with a kitchenette and a compost toilet. Connecting this area to the small but cozy bedroom upstairs is a spiral staircase. A platform underneath the treehouse includes a fire pit and an outdoor shower. The treehouse is approximately 150 square feet.
The treehouse sits about 35 to 40 feet high in the treetops, Wallace said, and is only accessible by a 60-foot suspension bridge.
There is a two-night minimum. Weekend rates are $350 per night, and $250 per night during the week.  It is available through Airbnb.
Spend a Few Nights Aboard a Lockmaster Boat
For those looking to explore an historic part of New York state from a unique vantage point may consider renting one of the 11 Erie Canal Adventure lockmaster boats and touring a stretch of the Erie Canal and its picturesque port towns.
Completed in 1825, the 363-mile-long Erie Canal was instrumental in the commerce and development of the New York state and especially the cities along its shores. It has been celebrated as a significant civil engineering achievement.
The canal boats range in size from 34 to 42 feet, and can be chartered for round trips of three, four or seven nights, according to Allie Keenan, an owner and vice president of operations of Erie Canal Adventures, based out of Macedon.
The round-trip, seven-day itinerary from Macedon to Lockport is approximately 165 miles, and goes through eight locks both ways. The round-trip seven-night trip from Macedon to Baldwinsville is approximately 135 miles, and boaters experience going through locks 16 times, since there are eight locks one way.
The smaller boats have one private cabin with a double bed the kitchen area has a bench area that can be converted into a second sleeping area, and a bathroom with shower the larger boats have two cabins and all the boats have a kitchen with a fridge, stove and oven, all kinds of utensils and even air conditioning. Rental rates start at $2,295, and they will vary depending on the boat selected and rental length.
Special licenses are not required, but renters will receive a four-hour training program on the day of their departure, Keenan said. They begin with classroom-style training and then they will go out on the Canal with one of the Erie Canal Adventures guides to go through water navigation training.  This includes going through two locks and learning how to dock the boat properly.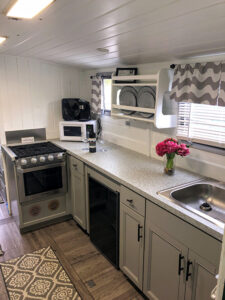 Erie Canal Adventures bought the enterprise from Mid-Lake Navigation in 2019, and Keenan said that the rental adventures are very popular, drawing people from 40 states to the canal area.
Their season begins mid-May, when the canal opens, to mid-October.