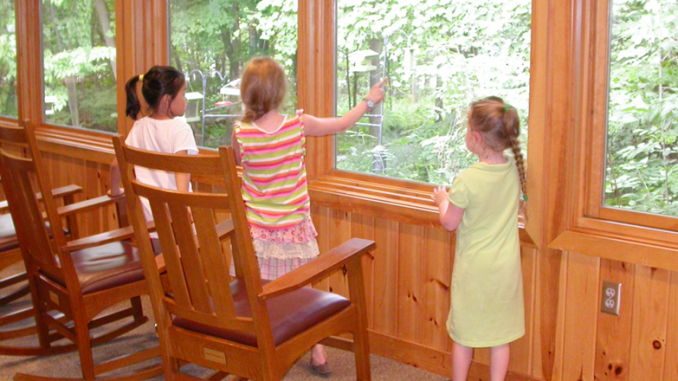 Montezuma National Wildlife Refuge, Derby Hill and Beaver Lake Nature Center are some of places to 'go birding'
By Deborah Jeanne Sergeant
Technically, you can "go birding" in your backyard or local park — simply sit quietly and observe birds. But some venues across the state have become well-known as good bird watching spots because of the variety and quantity of birds.
Some offer programming and events; others are less developed and more rugged.
Check the websites before planning your outing.
Derby Hill Bird Observatory
• Mexico
www.onondagaaudubon.com
It is an Audubon site and a good place to see hawks. Its mixed terrain and close proximity to water also bring many other varieties.
Montezuma National Wildlife Refuge
• Montezuma
www.fws.gov/refuge/montezuma
It is home to several bald eagle nests, as well as many kinds of waterfowl, migratory birds and shore birds. The 9,809-acre park is in Wayne, Seneca and Cayuga counties, and offers numerous vantage points for birders.
Beaver Lake Nature Center
• Baldwinsville
www.onondagacountyparks.com/parks/beaver-lake-nature-center
It boasts 200 species of birds on and around its nine miles of trails. The center also offers a bird and wildlife observatory room that overlooks the forest. Right outside its windows, strategically placed birdfeeders attract winged friends and the occasional pilfering squirrel.
Great Swamp Conservancy
• Canastota
www.greatswampconservancy.org
It is recognized as an "Important Bird Area" by the National Audubon Society, as it's considered a prominent resting place during spring and fall migrations. The conservancy's overlook is a great place to view more than 185 species, along with its seven miles of nature trails on 36,000 acres.
Huckleberry Swamp
• North Rose
www.ofofinc.org
It is managed by the Olga Fleisher Ornithological Foundation. A diverse 79 acres, Huckleberry is home to great blue heron, American bittern, red-headed woodpecker, eastern phoebe, cedar waxwing, and eastern bluebird, among other birds.
Iroquois National Wildlife Refuge
• Basom
www.fws.gov/refuge/iroquois
It represents the state's largest wildlife refuge. U.S. Fish and Wildlife Service manages the refuge that is home to 266 species of birds, including black tern, black ducks, osprey, and peregrine falcons.
Waterman Conservation Education Center
• Apalachin
www.watermancenter.org
It offers numerous summer programs and an interpretive center. View hawks, herons, egrets, wood ducks, mallards, warblers, and more.
Wellesley Island State Park
• Fineview
www.parks.ny.gov/parks/52/details.aspx
It provides both birding opportunities, including bald eagles and camping sites for tent, camper and cottages to rent. Plus, the park offers a butterfly house, hiking, swimming, fishing, golfing, boat rentals and more for the non-birders of the family. Its Minna Anthony Common Nature Center includes a museum.
Wild Center and Wild Walk
• Tupper Lake
www.wildcenter.org
It represents another site that offers something for everyone. While birders can revel in the birding opportunities among its 115 acres — including bald eagle sightings — everyone will enjoy the Wild Walk's treetops trail, which includes a four-story tree house, swinging bridges, and "spider's web" big enough for people.