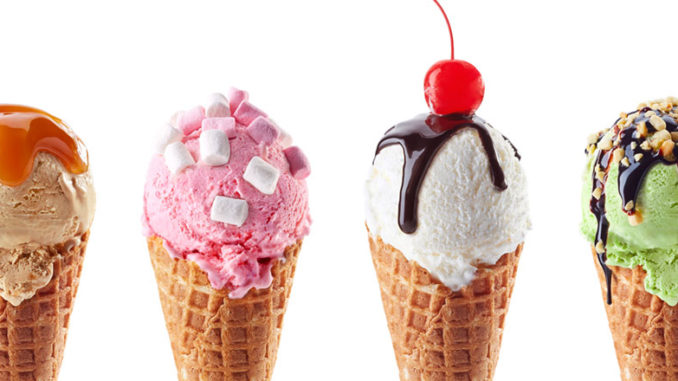 Region has many one-of-a-kind ice cream places that are worth the visit
By Deborah Jeanne Sergeant
By the cone or dish, ice cream is a delicious way to cool off. Upstate is home to numerous great ice cream stops. These represent just a kiddie cone-sized sampling:
Syracuse
Gannon's Ice Cream caters to those bored with typical ice cream. The shop boasts "inventive flavors" and they're not joking. Sweet Pig (maple flavored ice cream with caramel swirl and bacon bits); Sam's German Chocolate (chocolate coconut ice cream with a caramel ripple and pecans); Crazy Coffee (coffee-based ice cream with a caramel swirl, Heath bar pieces and chopped almonds), Parent Trap (light peanut butter ice cream with Oreo pieces); Pumpkin Buttercream (pumpkin ice cream with a butter cream frosting swirl, offered seasonally); and dozens more. 1525 Valley Drive and 4800 McDonald Road #6. https://gannonsicecream.com.
Manlius
Founded in 1957, Sno Top has become a legend among ice cream shops in Central New York. Sno Top, located at 315 Fayette St., is best known for its Trash Can Sundae that includes a little of everything. Quality is what counts at Sno Top. The shop received the 2014 Ice Cream Award of Excellence from the National Ice Cream Retailers Association. www.sno-top.com.
Rochester
Hedonist Artisan Ice Cream doesn't make dozens of flavors or boast an immense selection of toppings, but what it does it does well: make small batch, artisan ice cream. Many flavors include the chocolate shop's own confections and Hedonist supports other local businesses. The shop offers a few flavors that it periodically changes to keep the menu fresh. 674 South Ave. https://hedonistchocolates.com/shop/category/ice-cream.
Newark
Mr. Coolee's is a relative newcomer to the ice cream scene, having opened in 2013. The shop is charming, with a '50s soda shop vibe that doesn't try too hard. The décor also includes an indoor fish pond and waterfall — not something you often see at ice cream shops. Mr. Coolee's boasts a solid menu of ice cream creations and a drive-thru, which eliminates the excuse that you're too busy for an ice cream run. The drive-thru also has helped the shop remain open through the quarantine. Mr. Coolee's, 5076 state Route 31 W. www.facebook.com/Mr.Coolees.
Erie Shore Landing Ice Cream boasts a solid ice cream menu of flavors. For your furry pal, it offers doggy sundaes. The shop frequently introduces creative sundaes on its Facebook page that combine their freshly-baked brownies and cookies with ice cream, syrup and toppings. Proceeds from Erie Shore's sales benefit The Arc of Wayne — another great reason to stop at this shop. Erie Shore Landing Ice Cream, 50 E. Avenue. www.erieshorelanding.org.
Highland
Lakeside Licks Ice Cream and Hole in One Donuts combines ice cream with mini golf and doughnuts. In addition to cones and dishes and ice cream creations, the shop sells ice cream sandwiches, ice cream cakes and hand-packed pints and quarts to go. The well-maintained mini golf course is a great way to make an ice cream run a family outing. Lakeside Licks, Route 299. https://lakesidelicks.com.
Albany
Kurver Kreme represents one of the Capitol Region's oldest ice cream places. The menu boasts a wide array of treats, but a couple of unique creations makes this ice cream spot a standout: the Arctic Freeze ("thick shake meets slush," the menu reads) and the Kurver Kow (vanilla ice cream blended with soda). Kurver, which is located at 1349 Central Ave. in Colonie, an Albany suburb, also sells homemade ice cream pie and ice cream cakes to take home. The website lists flavors of the week. www.kurvericecream.com.
Stamford
Mac-A-Doodles operates both an ice cream shop and restaurant. In addition to the usual offerings, Mac-A-Doodles includes several creative ice cream options, like the Mac-A-Tack, which includes four ice cream varieties and four toppings to help the indecisive. There's also the warm chocolate chip cookie sundae, topped with fudge. Mac-A-Doodles, 33 Harper St., www.facebook.com/macadoodlesicecream.
Interlaken
Cayuga Lake Creamery is the place to go for small-batch, homemade style ice cream. The shop makes all the regular treats and ice cream in the expected flavors, along with some lesser-known varieties like rum raisin, lavender, and Seneca Salt Caramel. The shop also packs take-home pints and makes ice cream cakes. 8421 state Route 89. www.cayugalakecreamery.com.
Buffalo
Lake Effect Ice Cream makes its own ice cream. The menu is punctuated with references like "responsibly sourced" and "local" to reflect the shop's values. The shop is also very supportive of local businesses in both promotion on social media and in buying items the business needs. Flavors like Couch Potato (vanilla ice cream with swirls of caramel and peanut butter packed with chocolate-covered potato chips) keep the menu interesting. 79 Canal St., Lockport, and 1900 Hertel Ave., Buffalo. www.lakeeffecticecream.com.
Oswego
Bev's Dairy Treat in Oswego offers not only a good array of frozen treats, but also a great view of Lake Ontario. The shop is cash only. It's located at 43 county Route 89 next to Rudy's Lakeside Drive-in on the shores of Lake Ontario.