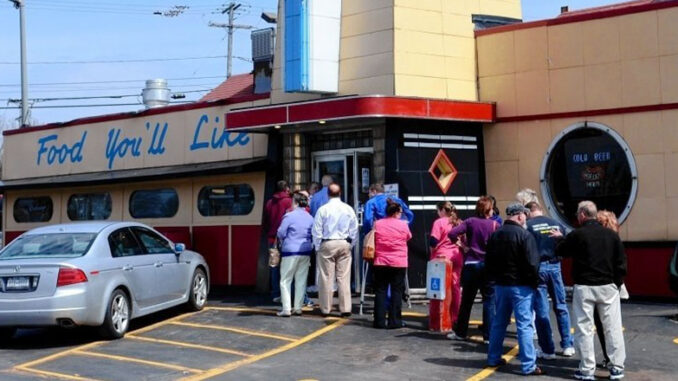 Restaurant are ubiquitous for summertime and early fall dining
By Deborah Jeanne Sergeant
Who can resist their old-time décor and feel-good food? Whether they deliver car-side or you pick up the order yourself, these drive-in restaurants focus on take-away foods ideal for a picnic or outdoor event, or simply parking at the restaurant to dig in.
Capital Region
Jumpin' Jack's Drive-In, 5 Schonowee Ave., Scotia
What began as Twin Freez in 1952, an ice cream stop, has expanded into a full drive-in style menu with charcoal grilled favorites in a family-friendly environment.
www.jumpinjacksdriveininc.com
The Country Drive-In Clifton Park, 1455 Crescent Vischer Ferry Road, Clifton Park
This drive-in has served up classic drive-in foods for 52 years. Dine in your car or at one of the umbrella-adorned picnic tables.
www.countrydrive-in.com
Jack's Drive-In, 24 Main Ave., Wyantskill
Jack's opened in 1938 and ever since has served traditional drive-in foods, and add-ons like sliders and cheddar fries.
www.facebook.com/Jacks-Drive-In
Farmer's Daughters' Drive-In, 882 Route 29, Saratoga Springs
This drive-in offers the appeal of a 1960s ice cream stand with numerous unexpected findings, like vegan/non-dairy frozen treats, Michigan hotdogs, gluten-free cones, and funnel cake.
www.farmersdaughtersdrivein.com
North Country
Bokie's Drive-In, 3960 State Route 11, Malone
Bokie's serves the expected fare, along with poutine, Michigan hot dogs, and specialty sodas, all from n 1950s-era eatery.
www.bokiesdrivein.com
Central New York
Rudy's Lakeside Drive-In, 78 Route 89, Oswego
The go-to place for fish fry and Lake Ontario views. Since 1946, diners have eaten their fill of fried fish, shrimp, scallops and their proprietary recipe rice pudding, macaroni salad, coleslaw, chowder, and tzatziki.
https://rudyshot.com
Heid's of Liverpool, 305 Oswego St., Liverpool
This drive-in has served Hofmann hotdogs for more than 100 years. The vintage flair of the restaurant alone makes it worth a stop. Their quaint tagline "Food you'll like" is no joke: Gianelli sausage, grilled cheese, Philly cheese steak, chicken and numerous fried sides are a few of their appealing offerings.
www.heidsofliverpool.com
Sweet Inspirations Drive-In, 801 W Broadway, Fulton
This is a great place to eat ice cream, burgers, hotdogs or any other food. It bills itself as "Central New York's original cruise joint."  A local staple, Sweet Inspiration claims to have the best burgers and the largest soft & hard ice cream selection anywhere.
http://Sweetinspirationsdrivein.com
Patio Drive-In, 1401 Oriskany St. W., Utica
Boasts all the expected drive-in foods with a few extras, like a wide array of sandwiches. Though the ice cream menu is limited, stop here for lunch if your group has a broad range of likes and dislikes. Most menu items are well under $10.
www.facebook.com/ThePatioDriveIn
Mac's Drive-In, 1166 Waterloo-Geneva Road (Route 20), Waterloo
Specializes in throw-back thrills like car-hop service, '50s décor and Rich's Root Beer. You can also dine-in while noshing on regular-sized or jumbo-sized burgers and other grill foods.
www.facebook.com/Macs-Drive-In
Western New York
Schaller's Drive-In Rochester, 965 Edgemere Dr., 559 East Ridge Road, or 2747 W. Henrietta Road, Rochester
Serves from its three locations burgers topped with its homemade meat sauce, Zweigle's red and white hotdogs, fried fare, all under their neon "Ground Round Sandwich" signs reminiscent of those from the '50s.
www.schallers.com
Orbaker's Drive In, 4793 state Route 104, Williamson
What began as a seasonal ice cream stand in 1932 has expanded to include all the grilled and fried favorites (don't worry; there's still ice cream!). The 1950s décor—including a wraparound diner counter fringed with barstools—adds to the charm. Or choose to eat in the enclosed or outdoor dining areas.
www.orbakers.com
Adirondacks
Ward's Drive-In, 10845 state Route 365, Remsen
Hosts a classic car—or tractor—cruise in on Thursdays. Stop in to grab a cone in an offbeat soft ice cream flavors like pistachio and see the vintage vehicles.
www.facebook.com/Wards-Drive-In
Kayuta Drive-In 10101 Dustin Road., Remsen
Serves up fish fry, clambake, grilled foods, cones and fries. Promotions like a drive-in movie and free cone for children10 and younger who could recite the Pledge of Allegiance always keeps things interesting at Kayuta.
www.facebook.com/Kayuta-Drive-In
Photo: Heid's of Liverpool. Photo by Deborah Jeanne Sergeant