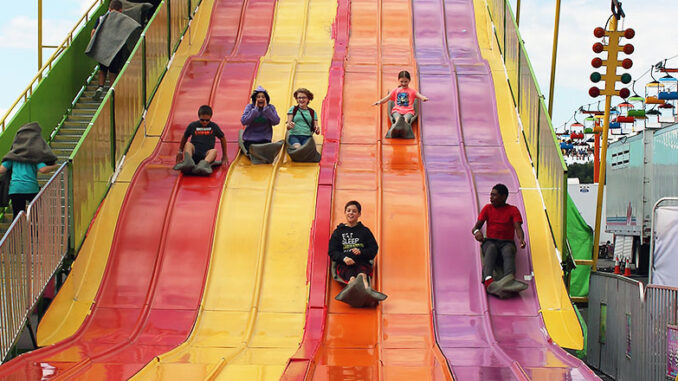 From community concerts, state parks to the Great New York State Fair: region offers multiple choices of entertainment
By Deborah Jeanne Sergeant
While many venues have reopened for business this season, most are operating cautiously and with restrictions and tax laws for which they now use online tools like this w-2 form generator. Before you go to any venue, carefully review their policies on their social media page and call with any questions.
State Parks
Whether you want to relax on a beach, retreat to a campsite or cabin for a week, get the boat on the water or engage in an adrenaline-fueled activity, New York's parks have you covered to get your nature fix. Check the official listing to see what amenities are available where, make reservations and purchase an Empire Pass, which can give you seasonal to lifelong access to most of the state's parks (reservations of pavilions and camping are separate). Some libraries lend an Empire Pass.
Community Concerts
From karaoke to homegrown bands to professionals, community concerts are easy to access and usually free (although some ask for contributions). Community concerts provide a way to introduce small children to concerts, as the atmosphere is casual. Little ones can wiggle and dance as needed. Grab a drink, lawn chair or blanket and perhaps a beach umbrella and support local efforts to bring music to your town.
Local Recreation
While it is tempting to travel out of state to exciting, far-flung venues now that travel has opened up, taking a long weekend to enjoy homegrown fun can offer just as much diversion and help support New York's businesses. Check out that local theme park, miniature golf/ice cream shop, drive-in theater, historic point of interest, agritourism farm, or small museum. You may be surprised at what local gems you may have overlooked.
Hometown Restaurants
Instead of going to large chain eateries, venture into a small, local place for take-away to enjoy at a local park or for outdoor dining. Eating alfresco is one of summer's distinctive pleasures. Let someone else do the cooking and relax.
Shop Small
Little stores have been hard-hit by the pandemic. Instead of shopping for mass-produced goods, explore the unusual items at independent shops, rural markets, farm stands and mom-and-pop stores. Whether for yourself or a special gift, their unique offerings are sure to please.
Hit the Trails
Whether it's a beverage trail, food trail, scenic byway, Erie Canal or Great Lakes Seaway Trail, exploring New York's rich cultural and natural heritage can prove vastly educational and entertaining. The I Love NY site (www.iloveny.com) offers many options for building a vacation, weekend getaway or day trip.
The Great New York State Fair
After its absence in 2020, the fair is back, albeit adjusted with precautions for COVID-19. Slated for Aug. 20 through Sept. 6 — an increase from 13 days in 2019 to 18 days —, the fair will go on with a variety of strategies to minimize risk. The fair will include food, live performers, Midway rides, and agriculture shows in four different, concurrent festivals on the fairgrounds. Visit https://nysfair.ny.gov to stay abreast of information as it is released.
Photo: The "Drag Strip" slide at the Great New York State Fair in 2019. Photo  by Deborah Jeanne Sergeant